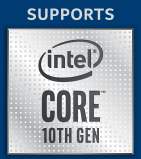 this hot feud is turning ice cold!
November 20th 10:00AM PT
These two titans of overclocking can't leave well enough alone, and they've decided to take it to the next level with EVGA Weekly and Intel®! Intel x EVGA Overclocking Invitational 2 is going to be a sequel that's so cool, we're going to have to bring in a tank of liquid nitrogen to contain it all!
Sit back and watch our competitors become Overclocking Contenders as they compete for the charity of their choosing! But that's not all, as we also will have giveaways and other surprises. Plus, you never know who might drop in!
Grand Prize: $1500
Runner Up: $1000
As a gesture of goodwill, TEAMEVGA will also be
making contributions to the following groups:
---