The EVGA GeForce GTX 980 Ti K|NGP|N graphics card is designed for overclocking perfection. With a 14+3 power phase design, this new digitally controlled VRM can deliver up to 600A of current, all delivered through 3 power inputs. A pre-binned GPU, ACX 2.0+, and the ability to go single slot with the included single slot bracket, makes this one of the most versatile graphics cards on the planet. You can get a card customized for you with the new Ultimate OC Project.
Vince "K|NGP|N" Lucido is an extreme overclocker who has achieved many 3DMark World Records with EVGA hardware. He helped design the GTX 980 Ti K|NGP|N to his specifications and make it one of the best overclocking cards in the world. He had this to say:
"K|NGP|N GTX 980 Ti once again represents EVGA's dedication to the enthusiast inspired hardware, bullet proof engineering and bleeding edge performance."
With this new card EVGA is also introducing a brand new way to purchase, by allowing you to select the best card to suit your needs. For the first time ever, EVGA is introducing a way to select your approximate GPU ASIC (approximate OC performance) Quality before purchasing. Every single piece of silicon, whether it be a CPU or GPU, varies when it comes to maximum overclocking. On GPU's, ASIC quality is one way to determine potential overclock performance. Please note this ASIC Quality* DOES NOT guarantee any specific overclock performance, it is merely a guide. The higher the ASIC Quality, the higher the potential overclock performance and the rarer the GPU. Of course, this can and will vary.
* ASIC stands for "application-specific integrated circuit", which is a general term used to describe a processor designed for a specific task. All GPU's have varying levels of ASIC QUALITY levels, which can be read from applications like GPU-Z. The higher the ASIC quality, the rarer the GPU and the higher potential there is for a better overclock. Of course, this can vary and does not guarantee any specific overclock.
LIMIT 4 PER HOUSEHOLD
1. To get started, please review our RMA policy on this special program and make your selection in the below section:
2. Next, choose your card's ASIC Quality from the below available selections, the card you choose is the card you will receive!
Login will be required for purchase.

If you do not have an EVGA account, you can create an account for free.
When we say this card offers unbelievable overclocking, we mean it. Vince "K|NGP|N" Lucido was able to take the GeForce GTX 980 Ti GPU to new heights with a 2100MHz GPU clock on Liquid Nitrogen Cooling.
EVGA ACX 2.0+ fans use double ball bearings, which offer 4X longer lifespan than the sleeve bearing fans used by competitors. The oil that is used in Sleeve bearing fans makes them vulnerable and prone to failure after time when the oil dries up. Upgrade to EVGA ACX 2.0+ and your card will go the distance!
Did you know that power consumption of the fans can directly affect your maximum overclock? The maximum "power target" takes into account the fan power consumption, meaning the lower the power consumption from the fan, the more power available for the card. EVGA ACX 2.0+ coolers use more than 4X lower power than competitors allowing for better and more stable overclocks. In some cases, just a few watts of additional power for the card can provide an additional headroom of up to +25MHz higher GPU or +350MHz memory frequency!
Above test conducted with both fans set to the same acoustic level.
Lower Fan Power = More Power For Overclocking
EVGA GeForce GTX 980 Ti K|NGP|N
06G-P4-5998
EVGA GeForce GTX 980 Ti K|NGP|N
Core
CUDA Cores: 2816
Base Clock: 1203 MHz
Boost Clock: 1304 MHz
Bus: PCIe 3.0
2-way, 3-way, 4-way SLI Ready
Memory
Memory Detail: 6144 MB
Memory Bit Width: 384 Bit
Memory Clock: 7010 (7096 OC Mode) MHz
Memory Speed: 0.28 ns
Memory Bandwidth: 336.5 GB/s
Key Features
14+3 Power Phases
dB Inverter
EVGA ACX 2.0 Cooling
EVGA EVBot Support
HDMI 2.0, DisplayPort 1.2 and Dual-link DVI
Memory MOSFET Cooling Plate
Microsoft DirectX 12 (feature level 12_1)
NVIDIA Adaptive Vertical Sync
NVIDIA CUDA Technology with OpenCL support
NVIDIA Dynamic Super Resolution Technology
NVIDIA G-SYNC Ready
NVIDIA GameStream Technology
NVIDIA GameWorks Technology
NVIDIA GPU Boost 2.0
NVIDIA MFAA Technology
NVIDIA SLI Ready
NVIDIA Surround Technology
OpenCL Support
OpenGL 4.6 Support
PCI Express 3.0 x16
Preinstalled Backplate
Straight Heat Pipes
Triple BIOS Support

Introducing EVGA PrecisionX 16 version 5.3.5 with full support for Microsoft DirectX 12 OSD support. This latest version of EVGA PrecisionX adds new features, overclocking support, functionality, and full support for the upcoming Microsoft DirectX 12 API. Download it for free today!
Key Features
Full support for Microsoft DirectX 12 API
Redesigned OSD interface with RGB color support
Available on Steam or as a separate download
Launch Precision Site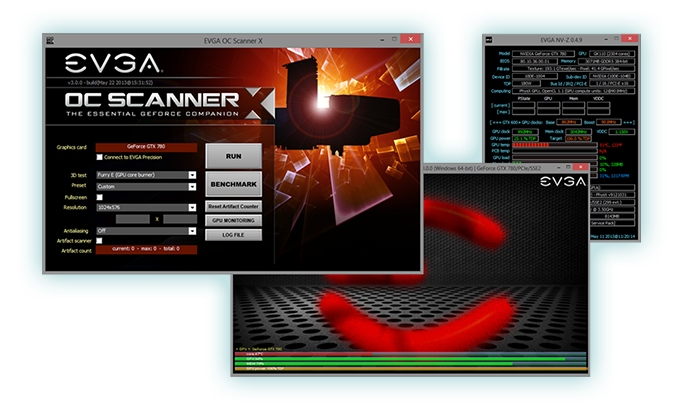 EVGA OC Scanner X – Featuring a brand new look and layout, this popular application has been updated to show all of the GeForce GTX 980 Ti K|NGP|N vitals. Learn more and download it here.
Key Features
Built-in stress tester to find and report artifacts
Benchmark function to quickly test your performance
CPU Burn In Module
Built-in log functionality
Launch OC Scanner Site