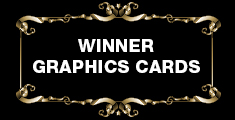 "It's now five out of six for EVGA in our Graphics Card award, giving this company a pedigree none of its rivals can match when it comes to delivering fast and reliable 3D performance."
"EVGA swept the board in every category – including Speed and Reliability – and 93% of its customers said the company represented good value for money."
EVGA Voted #1 for Graphics Cards in the PC Pro Excellence Awards 2013
EVGA has a "pedigree no rival can match" stated the PC Pro team at the PC Pro Excellence Awards 2013 where EVGA was honored with the top accolade in the 'Graphics Card' category for yet another successive year. Thank you to all the readers of PC Pro who voted!
Read the full article, here: http://www.pcpro.co.uk/features/384598/pc-pro-excellence-awards-2013-graphics-cards or in PC Pro, November 2013 (Issue 229).
How the awards were decided
"The PC Pro Excellence Awards are the culmination of months of survey feedback from our readers. We asked our readers to rate each product or service on a number of factors, such as performance, reliability and value for money."

"We then converted these answers to numeric values to obtain percentage scores for each category, from which we derived an overall score. Only companies with a significant number of votes are included in our awards tables."

PC Pro Excellence Awards 2013