Maximum Performance – Minimum Investment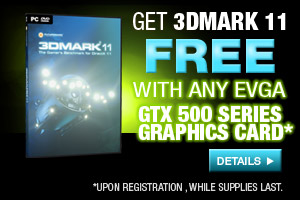 Looking for a next generation DirectX 11 card that has hard hitting graphics performance, but not hard hitting on your wallet? Look no further than the EVGA GeForce GTX 560. This card allows you to discover the incredibly detailed DirectX 11 worlds, with tessellation performance that destroys the competition. Get your PC ready to dominate this year's blockbuster game titles like Duke Nukem Forever and Crysis 2!
Performance is not the end of the story though; full DirectX 11 support done right that blows away the competition, NVIDIA 3D Vision, NVIDIA Surround Gaming, NVIDIA PhysX and award winning EVGA support give you the edge on your opponents and peace of mind on your hardware. Get an immersive experience today with the EVGA GeForce GTX 560.