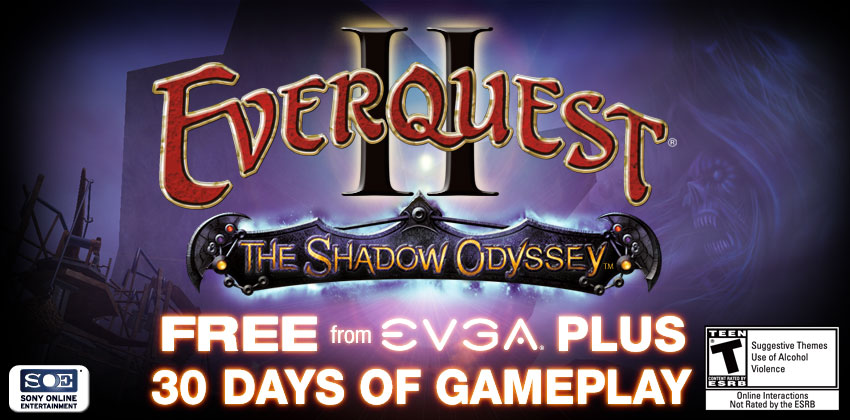 Free
EverQuest II: The Shadow Odyssey

($19.99 value) including 30 Days Free Gameplay for new accounts ($14.99 value) with the purchase of Select EVGA Killer Xeno Cards!

Purchase the EVGA Killer Xeno Card on or after 9/1/09* and receive EverQuest II: The Shadow Odyssey plus a 30 day free gameplay bonus until February 1 2010! Experience EverQuest II with reduced lag, improved performance and the new Killer Xeno Hardware Firewall! (Driver version 5.0.2.0 or later)

EverQuest II is the next generation of massively multiplayer gaming, a huge online world where friends have come together for adventure and community. Featuring breathtaking graphics and a vast, beautiful and dangerous game world to explore, EverQuest II sets the standard for graphical realism as players are immersed in the game's exciting locales and mysterious lands.

The Shadow Odyssey™ "All-In-One" compilation pack includes all the features and content from the critically acclaimed base game EverQuest II, including all three adventure packs, Splitpaw Saga™, The Bloodline Chronicles™ and The Fallen Dynasty™, and all four previously released expansions, Desert of Flames™, Kingdom of Sky™, Echoes of Faydwer™ and Rise of Kunark™ plus the new expansion, The Shadow Odyssey.
Promotion has ended.
EVGA Killer Xeno Pro
Part Number
128-P2-KN02-TR
Network Speed
10/100/1000Mbps (Gigabit)
NPU Clock Speed
400MHz Network Processing Unit
Memory Clock Speed
128MB 266MHz DDR2
Bus
PCI-E 1x (PCI-E 2.0 Compliant)
Ports
RJ-45 Ethernet, USB 2.0, 3.5mm audio input and output
Product Warranty
1+1 warranty upon registration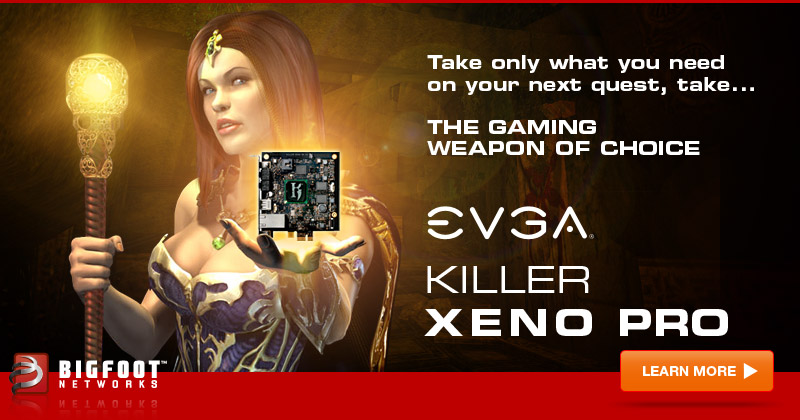 © 2004-2009 Sony Online Entertainment LLC. EverQuest, SOE and the SOE logo are registered trademarks and The Shadow Odyssey is a trademark of Sony Online Entertainment LLC. The ratings icon is a trademark of the Entertainment Software Association. All rights reserved. All other trademarks or trade names are properties of their respective owners.
* New accounts only; game time must be redeemed before February 1, 2010. Promotion begins 9/1/09. Available for US residents only.
Article viewed: 32239 times since 9/4/2009