OK so i see this posted everywhere!
So this is a heads up I hope it gets use because i have seen this probably 2 dozen times in the last couple months!

"My Power supply is screaming.." or "Under load my Supply squeals!"

Even on Boot sometimes this happens! A loud squeal that slowly goes away!
So I have a list of the outputs your Supply has and how you can see if it is failing!

Go to your Bios and see if your voltage is out of range! Nominal is what you want but of course your going to have minor variances. Just make sure your not too high or low. This can cause damages to components and/or function improperly.

You can also use Programs like SpeedFan a free Download: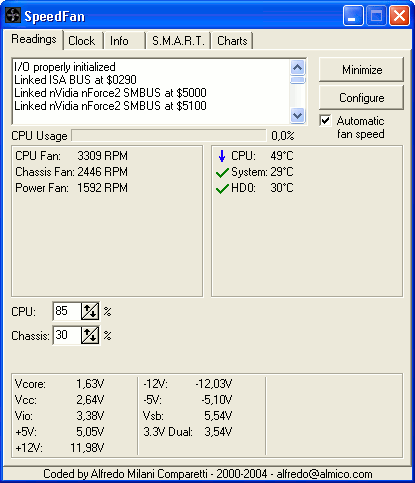 Everest which is purchasable with a Trail edition:



And lastly with a multi meter at the Connection of the Powersupply



Pin Name Color Description

1 3.3V Orange +3.3 VDC

2 3.3V Orange +3.3 VDC

3 COM Black Ground

4 5V Red +5 VDC

5 COM Black Ground

6 5V Red +5 VDC

7 COM Black Ground

8 PWR_OK Gray Power Ok is a status signal generated by the power supply to notify the computer that the DC operating voltages are within the ranges required for proper computer operation (+5 VDC when power is Ok)

9 5VSB Purple +5 VDC Standby Voltage (max 10mA)

10 12V Yellow +12 VDC

11 12V Yellow +12 VDC

12 3.3V Orange +3.3 VDC

13 3.3V Orange +3.3 VDC

14 -12V Blue -12 VDC

15 COM Black Ground

16 /PS_ON Green Power Supply On (active low). Short this pin to GND to switch power supply ON, disconnect from GND to switch OFF.

17 COM Black Ground

18 COM Black Ground

19 COM Black Ground

20 -5V White -5 VDC

21 +5V Red +5 VDC

22 +5V Red +5 VDC

23 +5V Red +5 VDC

24 COM Black Ground


---
DC Output Voltage Regulation



Output Range Min. Nom. Max. Unit



+12V1DC ±5% (1)+11.40 +12.00 +12.60 Volts

+12V2DC ±5% (3)+11.40 +12.00 +12.60 Volts

+5VDC ±5% +4.75 +5.00 +5.25 Volts

+3.3VDC ±5%(2) +3.14 +3.30 +3.47 Volts

-12VDC ±10% -10.80 -12.00 -13.20 Volts

+5VSB ±5% +4.75 +5.00 +5.25 Volts



(1) At +12 VDC peak loading, regulation at the +12 VDC output can go to ± 10%.


(2) Voltage tolerance is required at main connector and S-ATA connector (if used).
(3) Minimum voltage during peak is greater than 11.0 VDC

---

So what you say Ill get a new one soon!

Long term possibilities of a failing supply!


quote:

ORIGINAL: Tom's hardware

If your PSU is 'squealing' its because it's capacitors are doing it because they are blown or corroding significantly, or electricity is arcing on the inside of the PSU. neither is good. if left untreated, you could be looking at something as small as a new PSU, or you could have to replace most components in the PC if they get blown out by a short in the PSU, or your PC could just ignite into flames from electrical arcs and dust and burn down your house...

sounds far-fetched doesn't it? yes, well, it's not. so toss your cheap chinese power supply and go spend your $20-30 on a new one from the store. my experience comes with advice -- don't wait until you start to hear the noise again, replace it now.

on a side note, if you're not sure it was the PSU making the noise, inspect your mobo's capacitors as well. if they are not flat on top, bulging out, showing signs of 'leaking' or corrosion/oxidation, then they are bad and potential candidates for your strange noise. check them all -- if they look fine, its your PSU.

quote:

ORIGINAL: PCGuide.com

Explanation: The PC is making a squealing or whining sound, coming from the back of the power supply unit. The sound may be louder when the PC is first started up, and then diminish, or it may get worse as the PC is left on for a period of time. Diagnosis: Usually, the cause of this problem is the fan on the back of the power supply. It will tend to accumulate dirt over time, and cheaper ones will fail readily. If the fan is making noise now, it will probably fail soon. This usually takes years, but with cheaper power supplies that can be a surprisingly small number of years. Rarely, the problem can be with the internals of the power supply itself. Recommendation:

Look and listen closely at the back of the PC to see if the fan is what is causing the problem. If it appears that the fan is making the noise, troubleshoot it here.
If you hear a high-pitched whistling sound, this could be coming from components within the power supply. This will require you to either replace the power supply or take the system in for service.


Regards,

< Message edited by l337h4l -- 1/3/2009 4:57:52 PM >